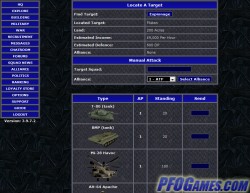 Ambroid
Strategic text-based warfare in your browser. Form alliances for support. Select opponents to attack based on a point system to get more land (and therefore the ability to build more). If your Attack Points are greater than their Defence Points, you've got yourself a nice match. Build buildings and units to increase your overall Power Points on your way to reach the supreme rank of General.
See Videos
Free to play indefinitely.
Play Ambroid now!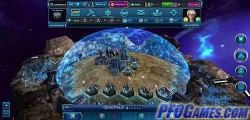 Astro Lords
Astro Lords is an MMORPG/Strategy set in a sci-fi universe. Players control an asteroid, construct and upgrade buildings and fight with others to gain control over the Oort cloud. The game can be played on iOS, Android and desktop devices. Players might be positively appalled by the lack of character customization, but that is more than compensated by the fact that eventually you can move your base, perhaps towards the members of your alliance, or the enemy if you feel you can gain an edge. The combat has players duke it out in turn-based combat with spaceships in the vast void. It takes quite some skill and provides ample entertainment, because the fights involve dodging slow-moving projectiles (there are lasers too!) and hiding behind asteroids. You'll either hate it or love it, but it must be said it's highly original. Astro Lords is definitely a promising title, but the strategy elements could very well be executed better. The skill tree, huge as it is, confuses the player, because it inevitably makes you wonder if you're looking at a spreadsheet. Even though Astro Lords doesn't push players into buying anything, progress is quicker with pockets full of premium currency.
See Videos
Free, with option to pay for additional features.
Play Astro Lords now!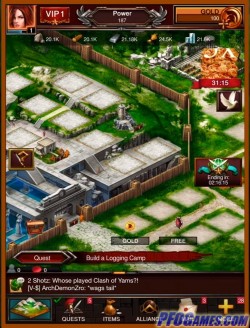 Game of War: Fire Age
Game of War: Fire Age is a massively multiplayer mobile 2D game cut in the same cloth as Clash of Clans and Vikings: War of Clans. It's a base-building, empire-builder strategy game that's solely tilted to cooperative PvP. A mythical ancient Greece is the setting for this game, so expect similarly themed structures, units, and heroes from the period. The usual hallmarks of empire-builder games are present in Game of War: Fire Age. Players build structures, train troops, and wage wars against neighboring players. There's a hero customization system, equipment crafting mechanics and of course, an alliance system that facilitates massive team versus team warfare. War-loving gamers will feel right at home in this game. Like most free-to-play empire strategy titles, Game of War: Fire Age is a "love it or hate it" affair. It will ultimately require players to spend some cash to be truly competitive in the game. The game's alliance and PvP-centric gameplay might not appeal to solo and casual players, but strategy and war-freaks will enjoy what the game has to offer - provided they're willing to invest some moolah in it.
See Videos
Free, with option to pay for additional features.
Play Game of War: Fire Age now!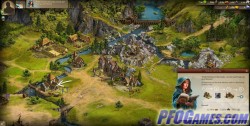 Imperia Online
Fancy yourself a great emperor of a thriving civilization? Or maybe a pillaging warlord, leading your legions to glorious battles? Then Imperia Online is right up your alley. Imperia Online is a browser-based, strategic empire builder MMO set in the Medieval period. You are the ruler of a small province, tasked to develop its economic and military might. Practically, like in most empire building games, that means improving your province's infrastructure over time, all for the sake of building up your military. To fully participate in global warfare and politics, the game encourages you to join player-run alliances. The gameplay doesn't stray much from the usual formula of online empire builder games, so if you're a veteran of that genre, Imperia Online won't be too much of an unfamiliar territory to cover. For the newbie, the lengthy tutorial does a thorough job of introducing the core gameplay systems. Graphically, there's not much to look at, but the visuals definitely have a medieval atmosphere to them. The interface can get overwhelming for a new player, though. Casual players will find little use for the game's cash shop offerings, but hardcore gamers will definitely need to invest some money if they want to play at a competitive level. That has always been the case for games like this. As far as modern MMOs are concerned, Imperia Online isn't a ground-breaking or stand-out game. It's a decently polished empire builder, though, and it's still going strong 10 years after it launched.
See Videos
Free, with option to pay for additional features.
Play Imperia Online now!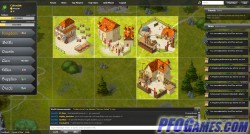 Kingdoms At War
Browser based strategy war game set in a fantasy setting. There is also an app for your iPhone or iPad. What sets this strategy game apart is the player-versus-environment quests so you aren't required to continually battle other players for extra gold that you need to build your production buildings (which aren't cheap to set up). You resources are primarily gold, trained combatants and spies. Use your spies to Scout your enemies defenses, Steal gold, or Assassinate enemy troops while they are sleeping. Real-time attacks and espionage take place in the form of a live news feed, allowing you to respond quickly to actions taken against you. Choose your allies wisely and join a clan for safety. The game offers a well designed interface and strong community interaction. The name of the game is expansion. Grow your kingdom into the most powerful in the land.
See Videos
Free, with option to pay for additional features.
Play Kingdoms At War now!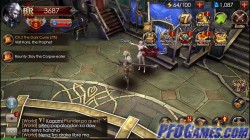 Legacy of Discord
From the publishers of the League of Angels series and Magerealm comes Legacy of Discord: Furious Wings, a 3D isometric dungeon crawler similar in style to Blizzard's Diablo 3. Players begin their quest for shiny, legendary loot and eternal PvP dominance by selecting one of three available gender-locked classes: the giant-sword-wielding Berserker, the speedy Bladedancer or the spell-chucking Sorceress. Combat is graphically flashy and fairly fast-paced, with a focus on class abilities and combo chaining. Equipment farming and refining are crucial aspects in Legacy of Discord and will determine how far you can go in both PvE and PvP endeavors. There's the usual PvE fare in the form of storyline quests and boss battle challenges, but these ultimately take a backseat to the game's PvP options, which are basically the game's selling point. PvP can be done in a 1v1 arena, a 5v5 team battle, or a massive scale guild wars setting. Competitive gamers wanting to stick around and participate in higher rungs of PvP must be ready with a substantial cash investment if they want to dominate their foes in the game. Otherwise, the experience going forward will be a long, frustrating uphill battle. Non-paying players beware unless they have a thing for endless grinding and battling against the odds.
See Videos
Free, with option to pay for additional features.
Play Legacy of Discord now!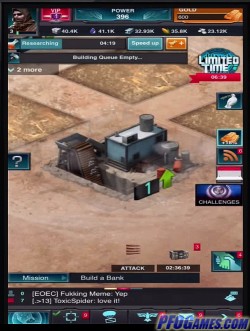 Mobile Strike
Mobile Strike is a 2D base-building, PvP-centric online strategy game set in a modern war setting. Join forces with General Arnold Schwarzenegger, the game's celebrity endorser and persistent guide NPC, and bomb, blaze, blast your way to victory. The tools at your disposal this time, instead of medieval ballistas and magical spells, will be implements of mass destruction from the real world. Base building, hero leveling, equipment crafting, and alliance forging are all present in Mobile Strike, as it doesn't shy away from the tried-and-tested formula for this game genre. As such, veterans from other online strategy titles will find themselves at home with the game's mechanics and underlying systems. Newbies to the genre might get overwhelmed at first with the vast amount of options and menus in the game, but it won't take long for them to adjust to the not-so-steep learning curve. Like most F2P builder-strategy MMOs, Mobile Strike has pay-to-win elements and caters heavily to the paying gamer. Casual players will be hard-pressed to keep up with serious paying players. It can be done, but it's an uphill battle and will require even more dedication than the average hardcore player.
See Videos
Free, with option to pay for additional features.
Play Mobile Strike now!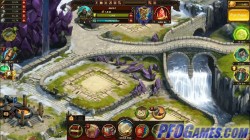 Vikings: War of Clans
Become a powerful Jarl and command your legions of berserkers for honor and glory in Vikings: War of Clans. Set in the tumultuous period when Viking kingdoms fought for dominance in the North, Vikings: War of Clans is primarily a player-versus-player empire-building online game. Band together with fellow warriors and join an ever-dynamic world of epic battles and large-scale warfare. Vikings: War of Clans comes from Plarium, the seasoned strategy game devs behind Sparta: War of Empires and Stormfall: Age of War, so it's as polished as strategy games get. The usual empire-builder strategy features are present in this game. Jarls get to build structures, train troops, invest in research, and engage in specializations - all for the glory of their kingdom. There's also a hero system in tandem with equipment crafting mechanics. As always, player-run alliances are the cornerstone feature in games like this, and any newbie Jarl would do well to join an established alliance if they want to progress meaningfully in the game. Like in most F2P empire-builder games out there, players must be ready to sink in some cash if they want to be competitive in Vikings: War of Clans. The way these online games are designed, non-paying players will always be at a significant disadvantage compared to their paying counterparts. Of course, players can opt to be casual in the game and play without spending a single cent. Just be warned that it won't be a pleasant experience, especially when battling against the hardcore, paying variety of Jarl.
See Videos
Free to play indefinitely.
Play Vikings: War of Clans now!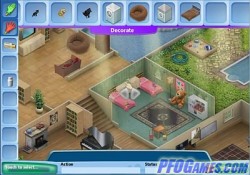 Virtual Families
Virtual Families (VF) is a real-life sim quite akin to The Sims. Adopt a character and move him into your home, then reach out to the second half by using a dating website. Once they have kids you're bound to be hooked. Players have to keep an eye on their adoptees' needs and help them fulfill these needs and wants by dragging them around—to the kitchen when they're hungry, the outdoors when they're longing for nature, and on top of one another when they're 'in the mood'. The game plays out in real-time, meaning that it still continues when you log off unless it's paused. Just like in The Sims, players can buy furniture and decorations, but players also can unlock achievements and awards as well as find secrets. Success is measured mostly in pecuniary terms in this game. Altogether, VF is a decent title, especially since it's a mobile game (also available as a PC download). It has vibrant graphics, a familiar feel, and of course the characters are lovable, especially the children. VF does, however, have a derivative feel to it, plus there are bugs in the AI that makes the families less clever than they ought to be.
See Videos
Free, with option to pay for additional features.
Play Virtual Families now!