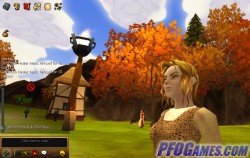 A Mystical Land
A Mystical Land is a browser-based MMORPG that raises the bar for Facebook RPGs. Choose from four classes and set off to explore the vast game world. The game's quests are dynamic, and NPC dialogue is quite funny; however, the real treat is the vast crafting/profession system – you can actually play the game without killing any mobs… and make a bunch of stuff in the process! Players can also get achievements and rewards for doing them. The game's graphics are nice and cartoony, but there can be performance issues in the city. A Mystical Land is admittedly directed towards casual gamers, but the game world is engrossing and vivid enough to offer something for the more serious players, too.
See Videos
Free, with option to pay for additional features.
Play A Mystical Land now!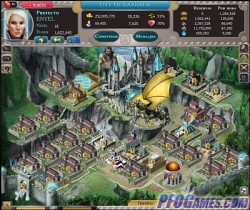 Dragons of Atlantis
Dragons of Atlantis (DoA) is a strategy MMO that offers a fresh retelling of the legend of Atlantis, adding future technology and dragons to it. Players start with a city, construct buildings and recruit troops to conquer the wilderness; players can also form alliances for protection and massive attacks. A special feature is the resident dragon found in each player-controlled city. The game world is sizable and saturated, but the basics are easy to grasp if you've played similar games before. DoA focuses on acquiring and controlling resources, and one of the main means of gaining them is through plunder. Complex battle mechanics will leave you puzzled after losing a battle but happy once you've invested the time in understanding them.
See Videos
Free, with option to pay for additional features.
Play Dragons of Atlantis now!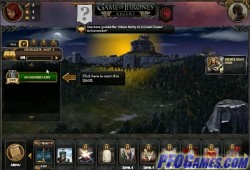 Game of Thrones: Ascent
Game of Thrones is a Facebook strategy game set in the 'A Song of Ice and Fire' universe from George R. R. Martin's book series. The player becomes a noble and swears fealty to one of the four houses from the book, and, my, the game lore is well developed indeed, with Tyrion Lannister being of course the wittiest advisor there is. Players build their encampments and progress through missions using Sworn Swords. There's a reasonably complex skill system that depends on the player's house, and players are free to branch out towards being either a 'modern' or a 'truthful' knight. Despite the fact that Game of Thrones is highly detailed, it certainly isn't perfect: the social system adds some level of competition to the game, but that's not enough to keep players interested in the long run. Plus, as in many such games, there's the problem with building times that slowly become unbearably long.
See Videos
Free, with option to pay for additional features.
Play Game of Thrones: Ascent now!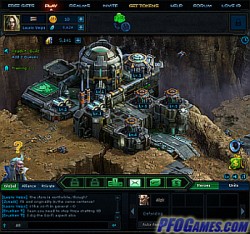 Infinite Realms
Infinite Realms is a sci-fi themed MMO strategy game, played through Facebook. Players have to build production structures, upgrade their outposts, train troops and recruit heroes to conquer new areas, build alliances and fight both player and computer enemies (mobs). Although the game doesn't offer much originality, it is the sci-fi setting that has its appeal. If you're one for stories, the game offers "mission text" for each mission you're given, and the missions are daily. Infinite Realms is by no means a game that could earn the title for 'most innovative Facebook game', but it's playable and has a somewhat small but friendly community.
Free, with option to pay for additional features.
Play Infinite Realms now!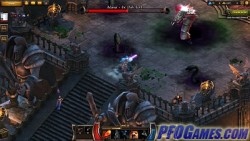 King's Road
King's Road is a browser-based dungeon crawler MMO by Rumble Games. It brings the experience of titles like Diablo and Torchlight to the browser in a beautiful 3D environment. King's Road is amazing right off the bat. Players enter into a world of chaos and distress and left-click their way around by unlocking new skills, merchants, achievements and crafting features. And of course, getting heaps upon heaps of loot is also an integral part of it. The game world is instanced not real-time, having the player travel to hubs and dungeons from the main city. King's Road sports the three staple classes – wizard, archer, knight – and an intricate skill tree for each. Classes can be switched in-game. Players craft items by giving them to a blacksmith; this does provide an incentive not to sell everything, but it's also very slow. Upon death players simply wait for revival, but some dungeons will kick out a player after their third death. Social features are abundant (co-op is available even with strangers) and maps have replay value—in fact, replaying is highly encouraged—as completion of a level awards premium currency. Overall, if you had the slightest bit of fun playing Diablo, Torchlight, Nox, or any other such game for that matter—do play King's Road. It's nothing short of amazing.
See Videos
Free, with option to pay for additional features.
Play King's Road now!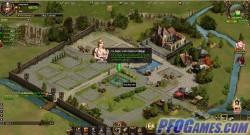 Lord of Ages
Real time strategy game set in a medieval fantasy setting. From a slew of resource types, build fifteen different buildings and eleven types of units to conquer other kingdoms. Build walls around your land and fortify them with archers, abatis (spikes for fast-moving inbound troops), rolling stones, and large logs to squash incoming attackers. Strengthen your forces by hiring a hero at the Inn or finding one in the surrounding forests. While heroes cannot fight alone, they gain experience and level up by leading your other troops through battle. Build stuff. Gather resources. Make alliances and loot other lands. Have fun.
See Videos
Free, with option to pay for additional features.
Play Lord of Ages now!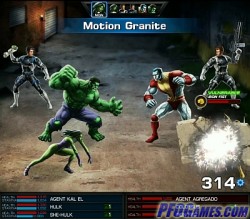 Marvel: Avengers Alliance
Marvel: Avengers Alliance is a turn based MMORPG, played in the browser. Players join S.H.I.E.L.D. and recruit heroes such as Wolverine, Iron Man, Black Widow and others to thwart the plans of the ever-present villains and trace a dangerous new drug that threatens to shift the power into the hands of the bad guys. Combat is turn based and quite complex in terms of strategy, featuring five classes that offer much more than the rock-paper-scissors classes so common in other Facebook games. Avengers Alliance features a nice innovation where players can immerse themselves in the storyline or skip straight to the action after skimming over the basics. Over 40 heroes are available for recruitment. Avengers Alliance is much better than most Facebook games, but still there's the usual caveat: to gain advantages, you've either got to pay or keep bugging your friends to join.
See Videos
Free to play indefinitely.
Play Marvel: Avengers Alliance now!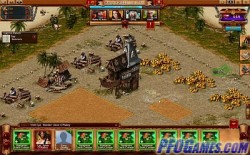 Pirates: Tides of Fortune
Pirates: Tides of Fortune is an MMORTS game played in the browser in which you become a pirate—albeit a resource- rather than blood-hungry one—and build a city of your own, hire cutthroats to do your bidding, upgrade technologies, build ships and trade with others. Pirates: Tides of Fortune has a stunning presentation. The graphics look great and sport vibrant colors supplemented by a convenient interface. There are multiple voices in different languages, all speaking in the tilting "pirate accent". While the gameplay is fairly typical of RTS games (and it's as well polished as the production elements), just like the goal of the game is (acquiring resources and building stuff), the game is just too slow unless you choose to pay up. So, for example, just to get through the tutorial you have to spend at least a few days. Battles cannot be controlled directly. Pirates: Tides of Fortune is, it cannot be stressed enough, a professionally made game that impresses with its looks and the way developers paid much attention to detail. The game does, however, have flaws in terms of speed and, yes, the way it handles its premium currency.
See Videos
Free, with option to pay for additional features.
Play Pirates: Tides of Fortune now!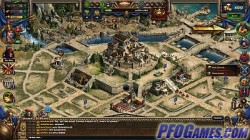 Sparta: War of Empires
Sparta: War of Empires (SWE) is a browser-based MMO strategy set in 5th century BC, Greece. It features a classic gameplay enhanced by a great production—visuals, voicing, and music are top-notch here. Sparta: War of Empires starts with players establishing a polis of their own and setting off to populate their town, recruiting soldiers and neutralizing the imminent Persian threat. Even though not aiming to represent history accurately, the setting is quite well realized—really, who cares if in SWE there are Persian settlements in mainland Greece, even though there weren't any historically. Other than that, the research system is replaced by treaties with other cities; alliances are encouraged as there is in-faction war taking place against other players; trade can be profitable in the game as well. Combat is, as in most games of this type, entirely textual. Overall, there's definitely nothing unique here, except perhaps for the setting. This doesn't take away from the fact that it is definitely a well-polished title, but it would be great to see something new for a change.
See Videos
Free, with option to pay for additional features.
Play Sparta: War of Empires now!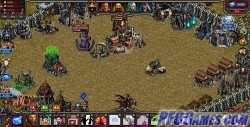 StormFall: Age of War
StormFall: Age of War is a browser-based strategy MMO similar to Travian. Players enter the war-stricken world of Darkshine and perpetuate the chaos by waging war against other players. StormFall has the player start in an empty, barren field and fill up the city with buildings. Players are guided by quests that introduce the game's mechanics; the quests are presented by a rather witty, well-voiced character, and players are given an abundance of the game's premium currency, Sapphires, for completing them. The usual elements—researching new technologies and unit types, as well as fighting other players in abstract, non-controllable battles—of such strategy games are found in abundance here as well. The premium currency doesn't mess with StormFall's flow: many premium items are level-locked so no one can get too far ahead just by paying; furthermore, Sapphires can be acquired by subscribing to useful services like Netflix. StormFall doesn't seem to quite hit the mark in terms of its visual presentation, and the music integration is frankly bizarre as soundtracks change as you go from one menu to the next, but still there's good reason to believe that many will enjoy this already quite popular strategy game.
See Videos
Free, with option to pay for additional features.
Play StormFall: Age of War now!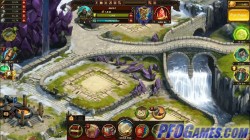 Vikings: War of Clans
Become a powerful Jarl and command your legions of berserkers for honor and glory in Vikings: War of Clans. Set in the tumultuous period when Viking kingdoms fought for dominance in the North, Vikings: War of Clans is primarily a player-versus-player empire-building online game. Band together with fellow warriors and join an ever-dynamic world of epic battles and large-scale warfare. Vikings: War of Clans comes from Plarium, the seasoned strategy game devs behind Sparta: War of Empires and Stormfall: Age of War, so it's as polished as strategy games get. The usual empire-builder strategy features are present in this game. Jarls get to build structures, train troops, invest in research, and engage in specializations - all for the glory of their kingdom. There's also a hero system in tandem with equipment crafting mechanics. As always, player-run alliances are the cornerstone feature in games like this, and any newbie Jarl would do well to join an established alliance if they want to progress meaningfully in the game. Like in most F2P empire-builder games out there, players must be ready to sink in some cash if they want to be competitive in Vikings: War of Clans. The way these online games are designed, non-paying players will always be at a significant disadvantage compared to their paying counterparts. Of course, players can opt to be casual in the game and play without spending a single cent. Just be warned that it won't be a pleasant experience, especially when battling against the hardcore, paying variety of Jarl.
See Videos
Free to play indefinitely.
Play Vikings: War of Clans now!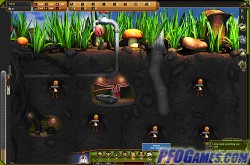 World of Ants
Lead your own ant colony in this browser-based strategy MMO. Collect resources and establish diplomatic and economic ties to expand your colonies throughout the meadow. You might wish to go the martial way of expanding your territory, and that's fine, too: you can train more than 10 types of units and equip them with a number of weapons of your choice. World of Ants has a newbie-friendly game world; its beginning quests help newcomers a great deal, and the learning curve is not steep at all. The game has prettier graphics than most Facebook games, but it struggles to introduce something new to the genre.
Free, with option to pay for additional features.
Play World of Ants now!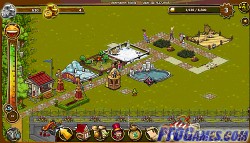 Zoomumba
A casual zoo simulator MMO, Zoomumba is played through Facebook or in the browser. Building a zoo is easy, but attracting new visitors takes a lot of guesswork. You have to do zoo maintenance and look after your animals, meaning you'll have to sweep the zoo's paths, cuddle your penguins, feed your flamingos with fish, and so on. Daily collaborative as well as solo quests are also offered. Play with your friends – send them gifts and vote for the prettiest zoos in Zoomumba. You have to level up (rather easy in this game) for unlocking new habitats for your animals or new decorations for your zoo. If you are keen on tycoon games, you'll find Zoomumba worth your time.
See Videos
Free, with option to pay for additional features.
Play Zoomumba now!