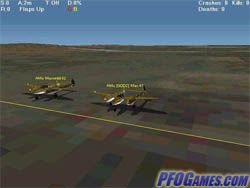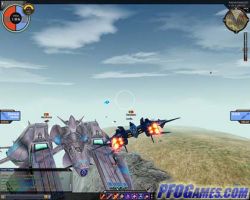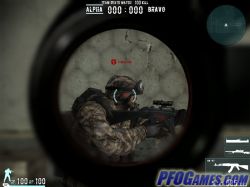 Combat Arms
Combat Arms is an FPS game, not unlike Counter-Strike or Call of Duty, but with emphasized community features. CA's gameplay is smooth and competitive, but the game has a ranking system, allowing newer players to compete, too. There are numerous game modes: Deathmatch; Capture the Flag; Team Deathmatch; Zombie mode; etc. Some of the modes, like Hired Guns and Spy Hunt, are actually quite original. An achievement system allows users to show off their achievements and adds to the well-developed friend/clan system. As in most F2P games, annoying players and cheaters are a problem; however, both gradually pass by as you reach higher ranks. Those looking for a competitive FPS will find Combat Arms highly entertaining.
See Videos
Free, with option to pay for additional features.
Play Combat Arms now!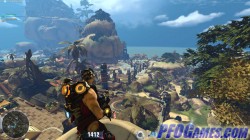 Firefall
Firefall is an MMO/Shooter set in a sci-fi universe where Earth is under attack by extra-dimensional aliens. From the very outset the game captivates with great graphics, intensive battles and a story (played in an open world) that echoes the epic scale of Pacific Rim. There's a massive single-player campaign played out with hundreds of other players. Each of the five classes has a significant role in combat, which reminds one of Tribes. There are also jetpacks that make everything much more intense and fun. MMO elements like crafting and mass-invasion events make Firefall stand out even more. Not to say that it's all rainbows and unicorns all the way, though: there's not enough content, and progressing through levels is patchy. PvP can get laggy, but classes aren't that balanced as of now. Overall, though, Firefall is definitely one of the most intriguing F2P shooting titles out there.
See Videos
Free, with option to pay for additional features.
Play Firefall now!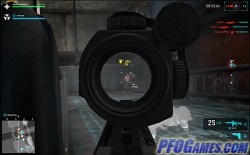 Ghost Recon Online
Ghost Recon Online (GRO) is an MMO tactical shooter developed by Ubisoft. It features three classes – Assault, Recon and Specialist -- that are defined by their game-changing abilities. There currently aren't that many maps available, but the game is updated regularly and the graphics are nice if a bit outdated. The gameplay is slow, tactical and immensely fun with short bursts of intense action in the two available game modes. GRO is very much a team game, and lone wolfs are not only ineffective, but can jeopardize the success of the whole team. Ubisoft can sometimes disappoint with their interpretation of the free-to-play model, but that's not the case here. Yes, grenades can only be bought for credits, but one can acquire them quite easily, plus weapon purchases are permanent.
See Videos
Free, with option to pay for additional features.
Play Ghost Recon Online now!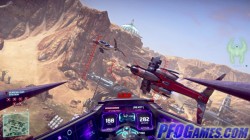 Planetside 2
Planetside 2 is a MMO FPS developed by Sony Online Entertainment. Pick one of three factions and battle for control of the planet Auraxis. The massive battles, which sometimes host up to 600 players at once, will surely amaze you. Numerous vehicles, play styles and classes make the combat very diverse—still, somehow it never gets too chaotic. Co-op is important and adds to the game greatly. Play with your friends if possible as then each battle will become an engaging story. Although player and weapon models might seem generic, the environment is well-detailed and overall the game looks great (an up-to-date computer, however, is required to enjoy Planetside 2 without lag). Considering that games of this quality usually have a retail price, Planetside 2 would be worth playing even if it were 'pay to win'. But it isn't, which makes it all the more compelling.
See Videos
Free, with option to pay for additional features.
Play Planetside 2 now!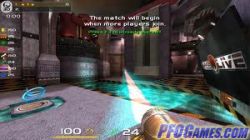 Quake Live
Browser-based first person shooter ported from Quake III Arena. When you first start playing, there is a match making system that will measure your skill as you play a series of introductory matches to help place you in your league. Successful game mod developers were contracted to assist in the game design, giving the game some quirky cheesiness to master on the road to fragging to your heart's content. See the tutorial videos on their site for tricks like circle jumps to get a feel for what I'm talking about. The game is ad-supported, playing videos between matches and such, but it doesn't interrupt gameplay. There are eight game modes to participate in. A few modes are subscription-based but not to worry. There's plenty of action and little reason to subscribe for more.
See Videos
Free, with option to pay for additional features.
Play Quake Live now!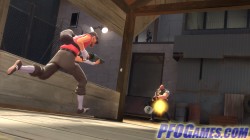 Team Fortress 2
Team Fortress 2 (TF2) is Valve's follow-up to the successful Quake mod. It was released in late 2007 as a paid title, but went free-to-play recently. TF2 is a class-based first-person shooter, featuring nine classes – The Spy, Sniper, Demoman, Pyro, Soldier, Engineer, Medic, Heavy, and Scout, each with a distinct role and (often funny) characteristics and gear. The game sports classy comic-book graphics and offers casual fun to players who are turned off by the hyper-realistic graphics and solemn gameplay of titles like Battlefield and Call of Duty. Eight game modes, fifty maps, along with vibrant characters, fun collectibles and wild, colorful graphics make TF2 one of the richest free-to-play FPS titles out there.
See Videos
Free, with option to pay for additional features.
Play Team Fortress 2 now!
Tribes: Ascend
Tribes: Ascend is an MMO first-person shooter set on a persistent world of the Tribes universe. Tribes is a very old co-op FPS franchise – a genre classic for some. The newest reincarnation of Tribes uses the praised Unreal 3 engine to create a graphically splendid game which also excels in terms of gameplay. The game mostly focuses on capture the flag, but other modes like Team Death Match are available – and more are expected to be added after the game gets released. Mastering both movement and projectile aiming is key for success in Tribes: Ascend. It's similar to games like Unreal Tournament (especially later generations of it where vehicles are featured) and Quake, not only in terms of gameplay, but also in the learning curve which can seem to be an overhang for players new to FPS. Note that Tribes: Ascend requires a decent PC to run, especially on higher settings.
See Videos
Free, with option to pay for additional features.
Play Tribes: Ascend now!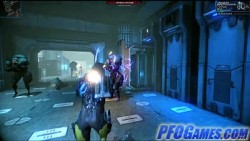 WarFrame
Warframe is a 3rd person shooter MMO with RPG elements. Become a space ninja by donning a titular Warframe suit. Shoot the big guns, walk the walls, and slide towards the enemy on your knees in order to slash him in half with a katana. The story takes place in the solar system and, even if it�s not a very important part of the game, it presents a solid mix of aliens, zombies and humanoids. Warframes are, as it was said, ninja suits. Each of these has special abilities that define the wearer�s combat role. Warframe sports huge computer-generated levels that are best played through in co-op. Players can craft items by purchasing blueprints and finding their components, or alternatively buy the weapons and warframes for hard cash. You should probably try Warframe. Despite that many condemn the slow pace of acquiring new gear (as well as its exorbitant pricing), the gameplay more than makes up for it. There�s just something strangely addictive and adrenaline-pumping in this game, even if it can be unappealing on paper.
See Videos
Free, with option to pay for additional features.
Play WarFrame now!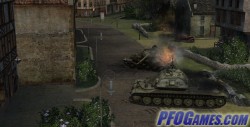 World of Tanks
Battle with tanks from World War II in a three-dimensional, realistic and destructible environment while completing team oriented objectives. As you gather experience you can upgrade your starter tank's engine, armor and firepower or get entirely new vehicles from the one hundred-fifty plus available. Tool around in third person perspective of your vehicle and fire from the first person perspective using the tank�s cannon. The game is in open beta so there isn�t a screening process. Simply register, confirm your email address, and download the game. Matches have up to thirty participants, are easy to find and games start quickly.
See Videos
Free, with option to pay for additional features.
Play World of Tanks now!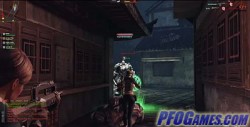 Zombies Monsters Robots
Zombies Monsters Robots (ZMR) is an amusingly self-conscious MMO third-person shooter with lots of zombies, monsters, robots and some laser-shooting dinosaurs as well. ZMR features numerous game modes so excitement is constantly maxed out. It has intense combat and tactical gameplay—in some modes, at least—with cover-based shooting against ranged enemies. Players have to be careful as they have a limited ammo supply. There's a multitude of maps, weapons and player models as well. You can play co-op or compete with others to meet countless waves of monsters or duke it out in a deathmatch. Weapons can be customized, and boss fights are quite random, making every encounter an adventure (or a nightmare, if you're out of luck). Updates are released each month and feature ever more ridiculous monsters, like shark tornadoes or augmented orcs from World of Warcraft. ZMR can be very enjoyable with friends, but when you get paired with high-level or paying players it gets challenging. Furthermore, ZMR encourages griefing as players can pick up ammo that isn't theirs, and my, ammunition does appear to be rather scarce in this game.
See Videos
Free, with option to pay for additional features.
Play Zombies Monsters Robots now!