The Settlers Online. Castle Empire is a browser-based MMO strategy game developed by Ubisoft. You start with a town center, construct buildings, gather resources, explore the map and attack lawless robbers once you've reached level 17. There are nine troop varieties and numerous resource types that players can use to their advantage. Castle Empire has plenty of social features – for example, you can add friends and send them goods – and this is handy because the game can get tiring after the initial power-leveling is finished. Later in the game players can equip their explorers with minerals which allow them to search for adventures (these always end in a big battle with great rewards).

The graphics are nice, and the game runs smoothly on older computers too. PvP is yet to be implemented. Altogether, if you already like this kind of strategy game, Castle Empire is a completely harmless time waster – but definitely not anything groundbreakingly original."/>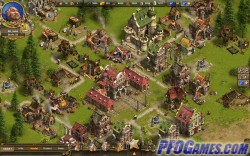 Castle Empire
See The Settlers Online. Castle Empire is a browser-based MMO strategy game developed by Ubisoft. You start with a town center, construct buildings, gather resources, explore the map and attack lawless robbers once you've reached level 17. There are nine troop varieties and numerous resource types that players can use to their advantage. Castle Empire has plenty of social features – for example, you can add friends and send them goods – and this is handy because the game can get tiring after the initial power-leveling is finished. Later in the game players can equip their explorers with minerals which allow them to search for adventures (these always end in a big battle with great rewards).

The graphics are nice, and the game runs smoothly on older computers too. PvP is yet to be implemented. Altogether, if you already like this kind of strategy game, Castle Empire is a completely harmless time waster – but definitely not anything groundbreakingly original.
Free, with option to pay for additional features.
Play Castle Empire now!