At its core, Tiny Mighty is a team building, equipment and item grinding game. Heroes can be improved through a multitude of ways – equipment, direct stat boosts and ability unlocks. Questing and grinding are the usual modes of progression, limited by a stamina bar that replenishes over time. PvP is present in the form of a battle arena where players can skirmish with each other for fame and rewards. Though combat is automated, players can use hero abilities to turn the tide of battle in their favor. Aside from its bizarre humor, there's nothing fresh or unique in Tiny Mighty Heroes Unite. Compared to other browser titles, it's below average in graphical and aural presentation. The game is also poorly localized, with occasional translation errors popping up here and there. Players looking for a polished superhero browser game might want to skip this one and move on to the next."/>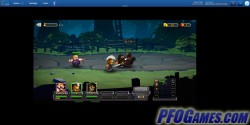 Tiny Mighty Heroes Unite
Tiny Mighty Heroes Unite is a team-based superhero browser game heavily "inspired" by Marvel Comics. By "inspired", I mean familiar looking but ridiculously named superheroes with comical powers and unusually pudgy designs. Early on, you encounter a quest giver called "Furrious", the game's analogue for Beast. Shortly after, you recruit "The Archer", a stumpy Hawkeye clone who fires plungers at his foes and cleans toilets after every victorious battle. Yes, the game is *that* weird, and it becomes even more strange as you progress through content. At its core, Tiny Mighty is a team building, equipment and item grinding game. Heroes can be improved through a multitude of ways – equipment, direct stat boosts and ability unlocks. Questing and grinding are the usual modes of progression, limited by a stamina bar that replenishes over time. PvP is present in the form of a battle arena where players can skirmish with each other for fame and rewards. Though combat is automated, players can use hero abilities to turn the tide of battle in their favor. Aside from its bizarre humor, there's nothing fresh or unique in Tiny Mighty Heroes Unite. Compared to other browser titles, it's below average in graphical and aural presentation. The game is also poorly localized, with occasional translation errors popping up here and there. Players looking for a polished superhero browser game might want to skip this one and move on to the next.
Free, with option to pay for additional features.
Play Tiny Mighty Heroes Unite now!