PvE content is story-driven, with the player going through the story in their own unique way via the "Personal Story" system. Zones have timed "Dynamic Events" where players cooperate to complete specific objectives for rewards. World bosses spawn in certain maps as well, rewarding players with loot for a successful battle. Guild Wars 2's PvP comes in two forms - Structured PvP and World VS World. Structured PvP has different match types and gives participants equal access to top level equipment and skills to even the playing field. World VS World is an ongoing battle between three game servers that takes place in one massive battleground with multiple objectives. Overall, you can't go wrong in choosing to play Guild Wars 2. It's free to play (but you'll have to shell out cash to access the latest expansion content), has meaningful, story-driven PvE content and highly competitive PvP modes. It's very polished in all aspects and has a stable community of players in its following. Don't hesitate to give it a try if you're looking for a quality MMORPG that's worthy of your time and money."/>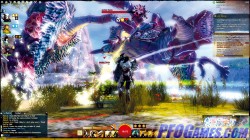 Guild Wars 2
Guild Wars 2 is ArenaNet and NCSoft's sequel MMORPG to 2005's highly acclaimed Guild Wars online game. Set in the world of Tyria, a land of fantastical creatures and mysterious magicks, Guild Wars 2 takes place 250 years after the first installment, in a tumultuous period when the Elder Dragons have begun their reawakening. Together with the members of Destiny's Edge, a group of powerful adventurers, the player must face the incoming onslaught of the Elder Dragons and their hordes, and save Tyria from the brink of destruction. Guild Wars 2 features five playable races and nine distinct classes (professions) at character creation. There are no dedicated healer professions in the game, so players are encouraged to mix their party compositions to find the most suitable setup for an encounter. Combat in Guild Wars 2 is fast-paced, with an action-oriented slant. Players can evade attacks using a built-in dodge mechanic. Skills are profession-based and weapon-specific, though, players can switch to an alternate weapon during combat to access a different skill set. Players only have a limited number of skill slots, which is a refreshing change from the usual "skill pianos" (multiple hotkey bars) common in full-blown MMORPGs. PvE content is story-driven, with the player going through the story in their own unique way via the "Personal Story" system. Zones have timed "Dynamic Events" where players cooperate to complete specific objectives for rewards. World bosses spawn in certain maps as well, rewarding players with loot for a successful battle. Guild Wars 2's PvP comes in two forms - Structured PvP and World VS World. Structured PvP has different match types and gives participants equal access to top level equipment and skills to even the playing field. World VS World is an ongoing battle between three game servers that takes place in one massive battleground with multiple objectives. Overall, you can't go wrong in choosing to play Guild Wars 2. It's free to play (but you'll have to shell out cash to access the latest expansion content), has meaningful, story-driven PvE content and highly competitive PvP modes. It's very polished in all aspects and has a stable community of players in its following. Don't hesitate to give it a try if you're looking for a quality MMORPG that's worthy of your time and money.
Free, with option to pay for additional features.
Play Guild Wars 2 now!