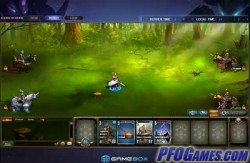 Ancient Summoner
Ancient Summoner is an MMO trading card game with some elements from other genres. It's very similar to Rise of Mythos and Kings and Legends. As such, there's not much to say about combat besides that it's welcoming for newcomers but complex enough to keep experienced players happy. There's also an AI that is great for offline moneymaking but generally will get you nowhere fast. At level 10 four classes – Warrior, Ranger, Mage and Priest – open up and players start getting skill cards that pertain to their class. Players can build, name and save their custom decks. The game features a nice user interface and the graphics are generally good for a browser-based title. It's true that players can generally grow their card deck without paying, but getting the best cards is pretty hard without investing real money.
See Videos
Free, with option to pay for additional features.
Play Ancient Summoner now!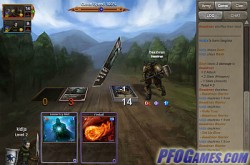 Clash of the Dragons
Clash of the Dragons is a fantasy-themed MMO collectible card game. There are four classes, each giving bonuses to certain types of cards – that's why players have to tailor their card decks to fit their class. The battle system is unique among this type of game; in Clash of the Dragons the cards act as a player's hitpoints. The game sports some RPG elements, like the ability to level up and move around the game world in search for foes. Visually, the game is somewhat lacking in terms of card design, especially in comparison with real-life collectible card games. The gameplay is fun, however, and if you like the genre there's a good chance you'll like Clash of the Dragons for its unique spin on the meaning of the card deck.
See Videos
Free, with option to pay for additional features.
Play Clash of the Dragons now!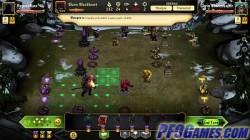 Conquest of Champions
Conquest of Champions (CC) is a collectible card game that features vibrant aesthetics along with a new, strategic spin on the classic CCG gameplay. CC features three factions—elves, dwarves, and the undead—each having two controllable, battle-thirsty heroes and of course a separate card pool. Players get introduced to the nuts and bolts, but not every nook and cranny, of the gameplay during the six-stage tutorial, and then jump right into action. The combat system cannot be fully described here, but it must be said that it allows for a plethora of strategies as there are two bases plus one hero to annihilate, so sacrificing the main hero for minerals, or utilizing the terrain with counterintuitive moves (like in chess, really)—both are entirely doable in CC. Furthermore, players AND their cards can level up, providing a nice touch to the already fun mechanics. CC looks like a keeper. Players don't have to buy anything to have a shot at winning; the game seems complex (and intense!) enough to warrant at least a few hours of play; and of course the client both looks and plays quite stunningly.
See Videos
Free, with option to pay for additional features.
Play Conquest of Champions now!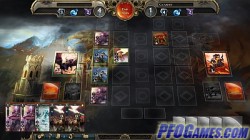 Duel of Champions
Duel of Champions (DoC) is an online collectible card game set in the Might & Magic universe. Choose from three factions with unique bonuses and try to become the mightiest card master there is. The game is well-developed and beautiful – the kind you'd expect from Ubisoft – but the tutorial does have a Facebook-y feeling. From the very first match, however, players see that DoC isn't a typical CCG. Card lanes are not uncommon in these games – however, special event cards and resource management add greatly to making the game more complex and interesting. So does the ability to create individual card decks. PvP gameplay is exciting, plus, as DoC boasts a huge player pool, finding an opponent is easy. But the most appealing part of DoC is its depth and complexity. There's a lot to be learned but also a lot of fun to be had.
See Videos
Free, with option to pay for additional features.
Play Duel of Champions now!
HearthStone: Heroes of Warcraft
HearthStone is a collectible card game by Blizzard. It's set in the Warcraft universe. Players compete with the AI and real enemies with their deck of cards, striving to acquire better ones and build their deck. Players choose from nine classes that can be found in the company's famous MMORPG. Its lore blends well with World of Warcraft and of course the title is well-polished like most Blizzard titles are, featuring great graphics, an easy-to-use interface and unique sounds for each card. The gameplay is simple yet allows for all sorts of tactics and mind games--it's definitely a lot more exciting than that of most similar titles. HearthStone has an arena mode where players compete for cards and gold in a streak until three losses. Legendary cards are hard to come by, and although these can be a game-changer, acquiring them is much more difficult than buying $20 worth of card packs. HearthStone has a lot of staying power, considering its polish and the well-established lore. It's definitely not of the 'pay-to-win' type and it, like all good titles, has simple ground rules that lead to complex scenarios; winning games in HearthStone requires, above all, skill and dedication.
See Videos
Free, with option to pay for additional features.
Play HearthStone: Heroes of Warcraft now!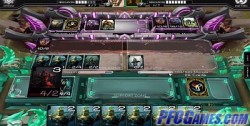 Infinity Wars
Infinity Wars is a MMO collectible card game (CCG) that was crowd funded via Kickstarter. As far as the game format goes, IW has the standard trappings of a CCG, offering seven card decks, each of a distinct faction and requiring a distinct play style. It features several innovative card game mechanics that make it stand out from the pack. Furthermore, IW boasts a single player mode that eases players into the game's intricacies that can take quite some time to master—however, the fact that they're there makes it much more interesting in the long run. The combat is powered by a zone system where you have to be careful to balance and move the cards through different zones, featuring a 'command zone' where you can place cards to start the game with. Lastly there's a morale stat that depletes as cards are destroyed, thus discouraging mindless burning of cards. Infinity Wars is a better CCG than most, some say even better than Hearthstone. It looks and plays great with vibrant card animations that come alive in 3D. Its mechanics ensure that IW has a staying power, and overall the game can certainly be deemed a success, especially given that the developers aren't a billion-dollar company.
See Videos
Free, with option to pay for additional features.
Play Infinity Wars now!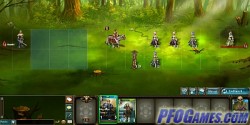 Kings and Legends
Kings and Legends is a card trading game with some city building elements. It's played in the browser. Players start with a measly deck and try getting new, better cards to duke their opponents with. Four classes and card types add greatly to the game's diversity—and so does the lane fighting system. There's also a storyline that can keep you interested, especially since you can get new cards in story-related PvE. The game's city building aspect is important as it can help you get better cards. Group battles are available as well in addition to regular PvP card duels. Each player has a hero that can use skills, and the game is over once one of the heroes is dead. The game manages to mix RPG, strategy and card game elements into one coherent mass. High-level players will have to compete for godlike cards, which are very rare unless bought.
See Videos
Free, with option to pay for additional features.
Play Kings and Legends now!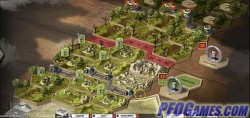 Panzer General Online
Panzer General Online (PGO) is a strategic card game developed by Ubisoft. The game, played in a browser, is a part of the original Panzer General franchise that stretches back some 20 years. PGO does a good job of introducing the players to the mechanics, which are similar to those of Might & Magic: Duel of Champions. PvP opens at level six, and until then the more experienced players will be stuck with the campaign. By doing the campaign, however, players gain in-game currency that can be used to purchase card decks. The three-lane combat system gives room for endless variety whilst keeping the matches short—against the AI a match is seldom more than 5 minutes, but a headstrong human enemy can keep you busy for 15 more. It must be said that PGO sports impressive graphics with detailed cards and boasts a simple yet powerful UI. The sound effects are also more than on par with what one expects from browser games. It's hard to find fault with this game, really. PGO seems really well-polished and unlike many such games doesn't push the player to purchase anything. If you like card games and WWII history, you should probably try it.
See Videos
Free, with option to pay for additional features.
Play Panzer General Online now!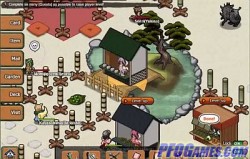 Shikihime Garden
Shikihime Garden is a Flash gardening slash card deck building game with cutesy anime cards and a lot of casual stuff to do out of battle. It can be described as a crossover between Tamagochi and a generic trading card game. In Shikihime Garden, cards are not just some abstract monsters in your deck—they're living creatures, called Shikihime (mostly female anime characters), that live in your garden. This creates some sort of attachment to your card deck, because as you create your garden the Shikihime interact and spar with one another, munching down rice balls to get well after a tough fight. The fights themselves are rather monotonous, and even though this is a card game there are no battle animations, or strategies for that matter. Building your deck carefully is important, however. Players get to explore a colorful world and tinker around with cards, combining lesser cards to acquire stronger ones. To top it off, there are social features, like guilds and 'check out my garden' exchanges as well. Shikihime Garden can be quite a treat to the casual player. This game was designed thoughtfully, and even though progress is slow, the weird combination somehow manages to create an experience that's captivating and fun even in the long run.
See Videos
Free, with option to pay for additional features.
Play Shikihime Garden now!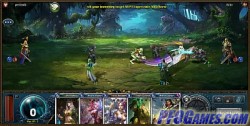 Summoner's Legion
Summoner's Legion is a trading card MMO from R2Games. It's set on a fantasy world that houses a number of creatures from different times and game universes. Players choose from four classes that differ in their special ability—depending on their class, players can always heal, deal damage or buff others. The combat takes place in one to three lanes and combines disparate card types and ability cards, making up a deck of 30. The single player campaign is fairly easy, but co-op and PvP is where the real fun is at. Try to find rare cards in dungeons and try to guess your enemy's next move in PvP. Although games are blazing fast (about five minutes against easy opponents), they're also quite tactical and require a lot of educated guesswork plus a bit of luck. Building a good all-round deck can be nothing short of a Herculean labor, but the mechanics are fairly easy to grasp. There's a crafting system that boosts the abilities of your cards, plus you can also craft new ones. Summoner's Legion is a treat in all aspects—visually, gameplay-wise and in terms of longevity too. Do note that the stamina system keeps you from playing as much as you could, and on the off chance you get addicted the game can swallow up a lot of money.
See Videos
Free, with option to pay for additional features.
Play Summoner's Legion now!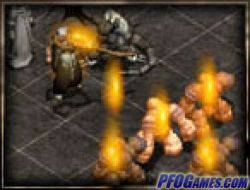 Tactics Arena
Tactics Arena is a fun version of battle-chess, similar to Fire Emblem games. Features a simple battle system and fast-moving duals.
Free, with option to pay for additional features.
Play Tactics Arena now!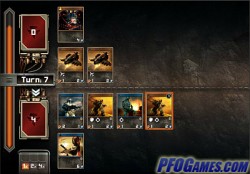 Tyrant
Tyrant is a MMO Collectible Card Game (CCG) set in a sci-fi environment reminiscent of Warhammer 40K. The game is played in a browser. There is an absence of health or mana cards in Tyrant, which removes some complexity from the gameplay; instead, the emphasis is on cards with special abilities as well as elemental cards. A player's deck consists of 10 cards, and the developers are keen to update the deck to keep the game fresh. Tyrant is fast-paced, especially in single player, but there's not much variety in the game until you get to PvP. Once you're in, however, the game gets more fun, especially if you're willing to spend a coin for extra cards. Ultimately, though, CCG enthusiasts should lower their expectations before diving in, mainly due to the limited strategy options.
Free, with option to pay for additional features.
Play Tyrant now!