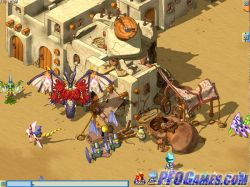 TPPC Pokemon
A Pokemon-like game with unlimited levels and player forums.
Free to play indefinitely.
Play TPPC Pokemon now!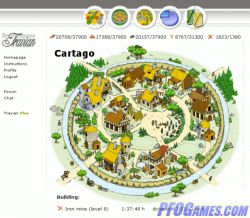 Travian
Travian is one of the oldest strategy MMOs out there. Set in the Roman Empire, circa 1st century AD, the game sports three different classes, representing different nationalities – the Gauls, Romans, and Teutons. Beginning players build their villages; veteran players wage war. Travian is exciting -- every 100 to 300 days (depending on the server) the end-game festivities commence, and culminate in an emerging winner. Travian is easy to learn but hard to master, and is almost flawless, except for two caveats, one minor and the other game-changing – the graphics are virtually non-existent, and players who throw money at the game have noticeable advantages.
See Videos
Free, with option to pay for additional features.
Play Travian now!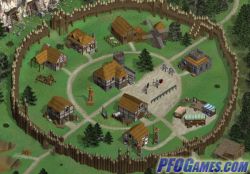 Tribal Wars
In this browser-based game, your goal is to lead a medieval village to fame and power. You do this by upgrading your village's buildings, gathering resources and plundering other villages controlled by players.
Free, with option to pay for additional features.
Play Tribal Wars now!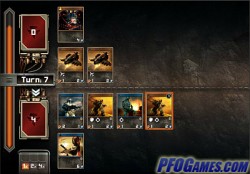 Tyrant
Tyrant is a MMO Collectible Card Game (CCG) set in a sci-fi environment reminiscent of Warhammer 40K. The game is played in a browser. There is an absence of health or mana cards in Tyrant, which removes some complexity from the gameplay; instead, the emphasis is on cards with special abilities as well as elemental cards. A player's deck consists of 10 cards, and the developers are keen to update the deck to keep the game fresh. Tyrant is fast-paced, especially in single player, but there's not much variety in the game until you get to PvP. Once you're in, however, the game gets more fun, especially if you're willing to spend a coin for extra cards. Ultimately, though, CCG enthusiasts should lower their expectations before diving in, mainly due to the limited strategy options.
Free, with option to pay for additional features.
Play Tyrant now!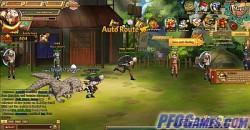 Unlimited Ninja
Unlimited Ninja (formerly known as Ultimate Naruto) is a ninja-themed, browser-based MMORPG. It sports anime characters 'in no way affiliated with Naruto'. Players specialize in Genjutsu, Ninjutsu, or Taijutsu fighting styles/philosophies and set off to explore the world, battling the forces of the Nine-tailed Demon Fox that have besieged the village. Even though there's limited customization at start, as players branch out a whole new world of possibilities opens up, like combat role customization and tactics. The turn-based combat might be a bore, but strategy plays a huge role in Ultimate Ninja even if not obviously so at the start. PvP opens quite late and its main use is testing character and equipment builds as well as strategies. An elaborate pet system, coupled with team building and huge stores of equipment and quests add to the longevity of this game. Players will enjoy the simple interface, the appropriate music and especially the warm, colorful graphics. Those who love Naruto will definitely find this game worth their while, and even skeptical players can be, in time, converted into believers as after a slow start to the story, the peaceful, intriguing world coalesces into an experience that's rare to be found in this genre.
See Videos
Free to play indefinitely.
Play Unlimited Ninja now!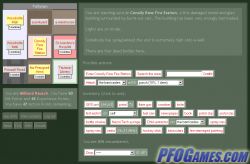 Urban Dead
Make your way through derelict buildings and fend off the legions of the undead in this massively multiplayer zombie apocalypse.
Free to play indefinitely.
Play Urban Dead now!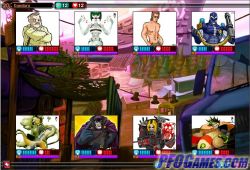 Urban Rivals
A massively multiplayer online trading card game. Very easy to learn. Level up to unlock "leader" cards, and use your winnings to purchase new cards for your deck. Cards also level up with use, gaining new abilities over time. More than 7 million players.
Free, with option to pay for additional features.
Play Urban Rivals now!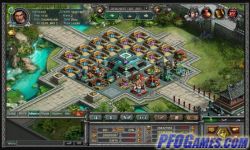 War of Legends
A fantasy civilization strategy game set in ancient Asia. Build your empire, form alliances with other players, and engage in epic battles.
See Videos
Free, with option to pay for additional features.
Play War of Legends now!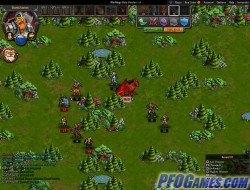 WarMage Battlegrounds
WarMage Battlegrounds is a turn-based strategy MMO, played in the browser. The battle aspect of the game features gameplay similar to that of Heroes of Might and Magic or Fallout 2. There isn't much to the story at all, and the fantasy setting is standard. WarMage is PvP-centric, meaning that other players, not the computer, have to be outsmarted for acquiring items and unlocking new unit types. Before joining a game, players configure their battle force and arrange their items and spells to gain every possible advantage over the enemy. Although WarMage Battlegrounds is graphically appealing and not bad in terms of strategy, battles tend to take a while, and so does the process of acquiring items, and this makes the game not especially rewarding for the amount of time invested.
Free, with option to pay for additional features.
Play WarMage Battlegrounds now!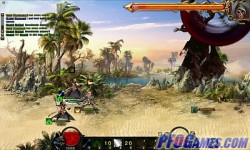 Wartune
Wartune is a turn-based MMORPG with a fantasy setting and some RTS elements like city management. The backstory, as well as graphics, borrows a lot from Blizzard's titles – the very first monster encounter is a 'Tauren' and the game's locations are at times identical to those of Diablo. There are three main character classes with well-developed skill trees. The game world is quite beautiful, and exploring it offers hours of fun even if it can be made overly easy with the auto quest feature. The game's gear-based combat can sometimes be confusing when, for example, thousands of units are represented by at most two; but visuals are impressive. Dungeons, bosses and PvP arenas add to the sometimes bland and derivative gameplay.
See Videos
Free, with option to pay for additional features.
Play Wartune now!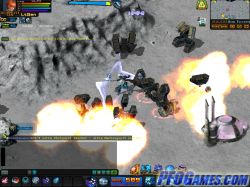 Wonderland Online
Free 2D MMORPG based on several ancient South American and Pacific Island cultures. Combines elements of fantasy and sci-fi with nature magic, spaceships, item creation, house customization and more!
See Videos
Free to play indefinitely.
Play Wonderland Online now!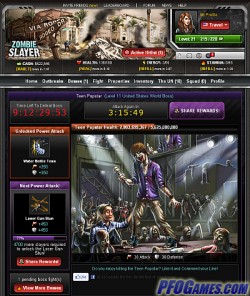 Zombie Slayer
Zombie Slayer is an addictive strategy/RPG Facebook game that deals with the strategy of killing zombies. Players start with one of eight different characters, and deal with zombie outbreaks in the United States. Zombie slayers can also fight other players and bosses. There is no actual combat (everything is text-based), but fighting other players can be quite hard. Social functions offer bonuses to those who add friends to their zombie fighting squads. Players can purchase a number of cars, weapons and equipment which add to their stats (you get 5 stat points per level); but the best weapons, of course, are for those who buy them with UN coins -- the game's premium currency.
See Videos
Free, with option to pay for additional features.
Play Zombie Slayer now!