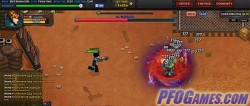 Zombies Ate My Pizza
Zombies Ate My Pizza is a top-down 2D shooter by R2Games. Fight your way through ever growing hordes of pizza-hungry zombies with numerous weapons, guided by the smell of the delicious, cheese-topped crust. Now you probably aren't looking for a story in a game with a title like this, but just so you know the pizza theme isn't really important here. The dialogues feature silly humor that doesn't quite hit the mark, but the younger players may get a few laughs out of it. Players run through rather repetitive and short levels of zombies that attack you melee, from afar, or with special abilities. The combat is rather fun and there's a lot of handholding until the later levels when there's suddenly none. Although the design of the levels leaves a lot to be desired, the decent, one might even say unique graphics make running through them an enjoyable aesthetic experience. If PvP weren't automated, ZAMP would be much better. To R2Games' credit, this title doesn't require the player to pay up to have a decent chance in becoming a top player; on the other hand, it doesn't really make clear why a player would want to.
See Videos
Free, with option to pay for additional features.
Play Zombies Ate My Pizza now!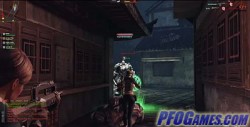 Zombies Monsters Robots
Zombies Monsters Robots (ZMR) is an amusingly self-conscious MMO third-person shooter with lots of zombies, monsters, robots and some laser-shooting dinosaurs as well. ZMR features numerous game modes so excitement is constantly maxed out. It has intense combat and tactical gameplay—in some modes, at least—with cover-based shooting against ranged enemies. Players have to be careful as they have a limited ammo supply. There's a multitude of maps, weapons and player models as well. You can play co-op or compete with others to meet countless waves of monsters or duke it out in a deathmatch. Weapons can be customized, and boss fights are quite random, making every encounter an adventure (or a nightmare, if you're out of luck). Updates are released each month and feature ever more ridiculous monsters, like shark tornadoes or augmented orcs from World of Warcraft. ZMR can be very enjoyable with friends, but when you get paired with high-level or paying players it gets challenging. Furthermore, ZMR encourages griefing as players can pick up ammo that isn't theirs, and my, ammunition does appear to be rather scarce in this game.
See Videos
Free, with option to pay for additional features.
Play Zombies Monsters Robots now!