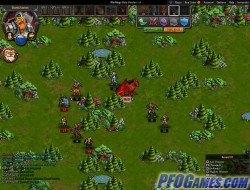 WarMage Battlegrounds
WarMage Battlegrounds is a turn-based strategy MMO, played in the browser. The battle aspect of the game features gameplay similar to that of Heroes of Might and Magic or Fallout 2. There isn't much to the story at all, and the fantasy setting is standard. WarMage is PvP-centric, meaning that other players, not the computer, have to be outsmarted for acquiring items and unlocking new unit types. Before joining a game, players configure their battle force and arrange their items and spells to gain every possible advantage over the enemy. Although WarMage Battlegrounds is graphically appealing and not bad in terms of strategy, battles tend to take a while, and so does the process of acquiring items, and this makes the game not especially rewarding for the amount of time invested.
Free, with option to pay for additional features.
Play WarMage Battlegrounds now!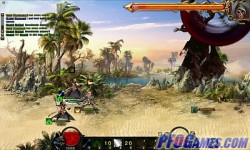 Wartune
Wartune is a turn-based MMORPG with a fantasy setting and some RTS elements like city management. The backstory, as well as graphics, borrows a lot from Blizzard's titles – the very first monster encounter is a 'Tauren' and the game's locations are at times identical to those of Diablo. There are three main character classes with well-developed skill trees. The game world is quite beautiful, and exploring it offers hours of fun even if it can be made overly easy with the auto quest feature. The game's gear-based combat can sometimes be confusing when, for example, thousands of units are represented by at most two; but visuals are impressive. Dungeons, bosses and PvP arenas add to the sometimes bland and derivative gameplay.
See Videos
Free, with option to pay for additional features.
Play Wartune now!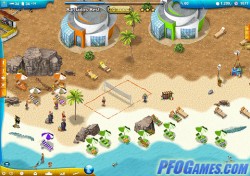 WeWaii
Simulated hotel management. Play a hotel manager in a top-down beachfront simulation where you build buildings and accessories for your tourists to enjoy. Gameplay is non-competitive. Your success rides solely on how well you can to cater to your tourists.
See Videos
Free, with option to pay for additional features.
Play WeWaii now!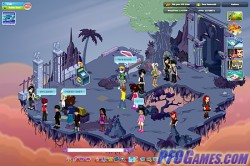 Woozworld
Woozworld is a social MMO somewhat akin to Gaia online. Woozworld allows Woozens to become creative and purchase their own unique outfits with the game's currency – Wooz. Players aren't given particular tasks, but rather are free to explore the world and make contacts with everyone they meet. The game community is made up mostly of children and teens, and the social gamer will find ways to earn extra Wooz through contests and other kinds of events. Players can customize their appearance, build up their own place, throw parties and events in it, and, at the end of the day, become the coolest person in Woozworld.
See Videos
Free, with option to pay for additional features.
Play Woozworld now!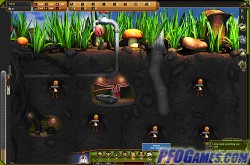 World of Ants
Lead your own ant colony in this browser-based strategy MMO. Collect resources and establish diplomatic and economic ties to expand your colonies throughout the meadow. You might wish to go the martial way of expanding your territory, and that's fine, too: you can train more than 10 types of units and equip them with a number of weapons of your choice. World of Ants has a newbie-friendly game world; its beginning quests help newcomers a great deal, and the learning curve is not steep at all. The game has prettier graphics than most Facebook games, but it struggles to introduce something new to the genre.
Free, with option to pay for additional features.
Play World of Ants now!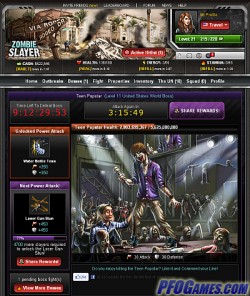 Zombie Slayer
Zombie Slayer is an addictive strategy/RPG Facebook game that deals with the strategy of killing zombies. Players start with one of eight different characters, and deal with zombie outbreaks in the United States. Zombie slayers can also fight other players and bosses. There is no actual combat (everything is text-based), but fighting other players can be quite hard. Social functions offer bonuses to those who add friends to their zombie fighting squads. Players can purchase a number of cars, weapons and equipment which add to their stats (you get 5 stat points per level); but the best weapons, of course, are for those who buy them with UN coins -- the game's premium currency.
See Videos
Free, with option to pay for additional features.
Play Zombie Slayer now!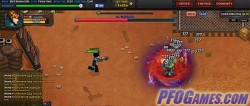 Zombies Ate My Pizza
Zombies Ate My Pizza is a top-down 2D shooter by R2Games. Fight your way through ever growing hordes of pizza-hungry zombies with numerous weapons, guided by the smell of the delicious, cheese-topped crust. Now you probably aren't looking for a story in a game with a title like this, but just so you know the pizza theme isn't really important here. The dialogues feature silly humor that doesn't quite hit the mark, but the younger players may get a few laughs out of it. Players run through rather repetitive and short levels of zombies that attack you melee, from afar, or with special abilities. The combat is rather fun and there's a lot of handholding until the later levels when there's suddenly none. Although the design of the levels leaves a lot to be desired, the decent, one might even say unique graphics make running through them an enjoyable aesthetic experience. If PvP weren't automated, ZAMP would be much better. To R2Games' credit, this title doesn't require the player to pay up to have a decent chance in becoming a top player; on the other hand, it doesn't really make clear why a player would want to.
See Videos
Free, with option to pay for additional features.
Play Zombies Ate My Pizza now!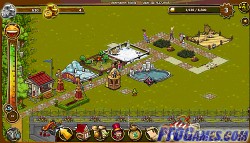 Zoomumba
A casual zoo simulator MMO, Zoomumba is played through Facebook or in the browser. Building a zoo is easy, but attracting new visitors takes a lot of guesswork. You have to do zoo maintenance and look after your animals, meaning you'll have to sweep the zoo's paths, cuddle your penguins, feed your flamingos with fish, and so on. Daily collaborative as well as solo quests are also offered. Play with your friends – send them gifts and vote for the prettiest zoos in Zoomumba. You have to level up (rather easy in this game) for unlocking new habitats for your animals or new decorations for your zoo. If you are keen on tycoon games, you'll find Zoomumba worth your time.
See Videos
Free, with option to pay for additional features.
Play Zoomumba now!